Welcome to the Many Hands Sustainability Center!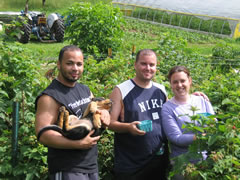 Freddy, Benny, Meridith and dog Zoey. Taken on July 11, 2008
In November 2007 after many years of discussing the desire to set up a non-profit educational arm of our farm, we finally did so. The mission of Many Hands Sustainability Center, Inc., a 501 (c)(3), is to promote methods of sustainable living, including organic agriculture, renewable energy, food preservation, homesteading skills, nutrition and its centrality to human health. The Center works to serve the needs of all populations, including such underserved groups as former prisoners, youth and family farmers. The Many Hands Sustainability Center, Inc. has been organized to:
educate the public about techniques, products, inputs and devices useful on small, sustainable farms,
study ways to make small and family farms a sustainable livelihood in the Northeast
teach practical skills related to self-sufficient living,
demonstrate ways to build community via collaborative work,
promote efforts to move toward sustainability in use of energy, materials, and living organisms
foster self-respect and competence in young people,
encourage connections between people of diverse backgrounds via sustainable agriculture and other environmentally benign endeavors,
develop the consciousness that in caring for ourselves and each other we must also care for the earth
generate awareness of the connection between healthy food and healthy bodies
cultivate the knowledge and personal qualities necessary to create economically sustainable enterprises
On this website will be found information regarding our on farm workshops. Please check out our 2009 offerings.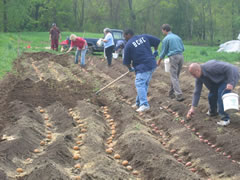 Julie Rawson leads a crew of Almost Home volunteers and others in planting potatoes. Taken on May 15, 2009
Another project that we started new in 2007 was a collaboration with Dismas House of Worcester, MA. Through their Almost Home Program, 12 or so guys come to work and learn about organic agriculture on our farm one morning each week. These men have recently been released from the Worcester County House of Corrections or another state correctional institution and are in a halfway house program to help insure their success in re-entering civilian life. Men from Almost are chosen for the jail history of drug related violations. All men have graduated, while in jail, from the STOP program and have shown a real desire to overcome their issues with drug addiction.
After four hours of farm work and training of all sorts we share a prayer and a pot luck lunch. This year we will be interviewing each of the guys and publishing their stories on this site.
Jack Kittredge and Julie Rawson