Welcome to the Many Hands Sustainability Center!
Dear friends,
We write to you to ask you to consider continued financial support for our work with the Many Hands Sustainability Center. We use your annual tax-deductible donation to hire, as intern on the farm, a former prisoner who has entered a sobriety program and is well-positioned to make serious life changes. This year's donations went to hire Ed Go. It has been a great investment in someone who is a complete dynamo on the farm - he has amazing skill with machinery and field management, a love of all livestock, and an unmatched reliability. He writes here about this year:
2013 Intern Ed Go works on farm
After 35 years of doing drugs, I thank God for Jack and Julie's patience and care about addicts and ex-cons by providing the opportunity to employ us. I have learned a lot about organic farming and sustainability. I've always liked to be self-sufficient and am re-programming to become the sober person I used to be. Prayers and thanks to Many Hands.
Here is a thought from Jason, our 2010 intern, back now from a relapse and making us all laugh while he powers his way through each day:
If you donate money to this cause you're giving some one a purpose and a second chance at a new start.
And this is from Tyson, our 2011 intern, who is now in touch and in a treatment program:
I wasn't thrilled at the idea of working on a farm but soon realized different. While there I seen so many people having fun, smiling, laughing, singing, and doing it while they were working. I adapted quick and loved being around such high spirited people. I was influenced by how much pride they took in whatever they were doing. The farm showed me that things you want need to be earned in life, not just given.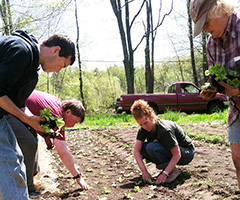 Julie and Kim work with Stetson boys (boys faces obscured to protect identities)
2013 was a year for us to branch out. Stetson School, in Barre, offers a residential treatment programs for troubled youth. Here are some quotes from staff and kids:
I watched my students transform from snack-food loving teenagers into fruit and vegetable experts. I was excited to see them try foods they would have never tried, all because "they grew it." - teacher Shawn Ilinitch

This is one of the best things I have ever done in school. - student BD

Just like the crops, I am renewed in the garden. I feel like every day is a fresh start. I wish I have joined before. I love the garden! - student GM

Ed and Jason, the two of you show my boys patience and kindness week after week, helping them build strong work ethics. They admire you and look up to you. Watching you has helped them realize that they too are able to have a second chance. - teacher Kim Dulak

I have been a volunteer at Many Hands Farm for only about two months, but these two months are the best of my life. Everyone there connects and is a big family. They are the family I always wanted. - student L.C.
There are many folks out there who are struggling. We enjoy the opportunity to use our special talents and our farm as a place to provide some grounding and a safe haven. Anything you can do to support our efforts will be greatly appreciated. (Please make tax-deductible checks to MHSC.)
Julie Rawson, Jack Kittredge and the staff & volunteers